It's a common misconception that it is easier for you to utilize TurboTax software or schedule an appointment at Liberty Tax, H&R Block, or a bigger CPA firm to get your taxes done.  Nothing is further from the truth. Going to Liberty Tax or H & R Block means you pay for someone to do your taxes who only knows as much as you. If you go to a large CPA firm, you are only a number.  We recently picked up a client who used the same large firm for years.  She hadn't seen the CPA in person in seven years; rather, she dealt with a clerk. Going to a smaller CPA firm offers you a host of benefits, which supersedes the quality and service you receive at any other place.
What Are the Benefits of Going to a Small CPA Firm?
1. You deal directly with a licensed, trained, and well-rounded CPA.
At Shank & Company, CPA, when you schedule an appointment about filing your taxes, you deal directly with the CPA, Randy Shank. You deal with someone who specializes in not only one form of accounting or tax laws, but many forms. He remains current on all tax law changes through continued education every year. When you come to Shank & Company, CPA, you deal with Randy throughout the whole process of filing your income taxes. You can ask him questions about your taxes that he can answer right away rather than calling a help line.
2. We truly care about our clients.
One of the services we provide to our older clients or those with health issues is tax return pick-up and delivery. It is offered at no extra cost. We understand that not everyone can navigate staircases, but we believe that should not bar anyone from seeking tax or accounting services.
We consider all our clients family. We strive to provide them, and you, with quality service in everything we do.
3. There are no surprises when you receive your invoice for completed work.
We don't charge exorbitant fees for completing a short tax form.  We will give you an estimate of what our bill will be for our services when you meet with us so that there are no surprises.
4. We handle business and personal taxes from across the U.S., not just from Ohio.
At Shank & Company, CPA, the owner, Randy Shank, taught at the University of Cincinnati for 11 years and has students all over the country who continue to utilize his tax expertise. We also have many clients from other states who continue to utilize our services.
5. We do taxes free for active U.S. military personnel.
We have never charged active military personnel to complete their taxes. We understand that our active military personnel, and their families, make great sacrifices in their desire to serve our country. Completing their tax returns for free is our way of showing our gratitude for their sacrifices and their service.
______________________________________________________________________________________________________
What is your biggest concern about working with a small CPA firm? What's the biggest benefit you'd gain from switching to a small CPA firm?
You can compare us directly with our competition. We offer the same quality services as a larger firm, but at a fair price.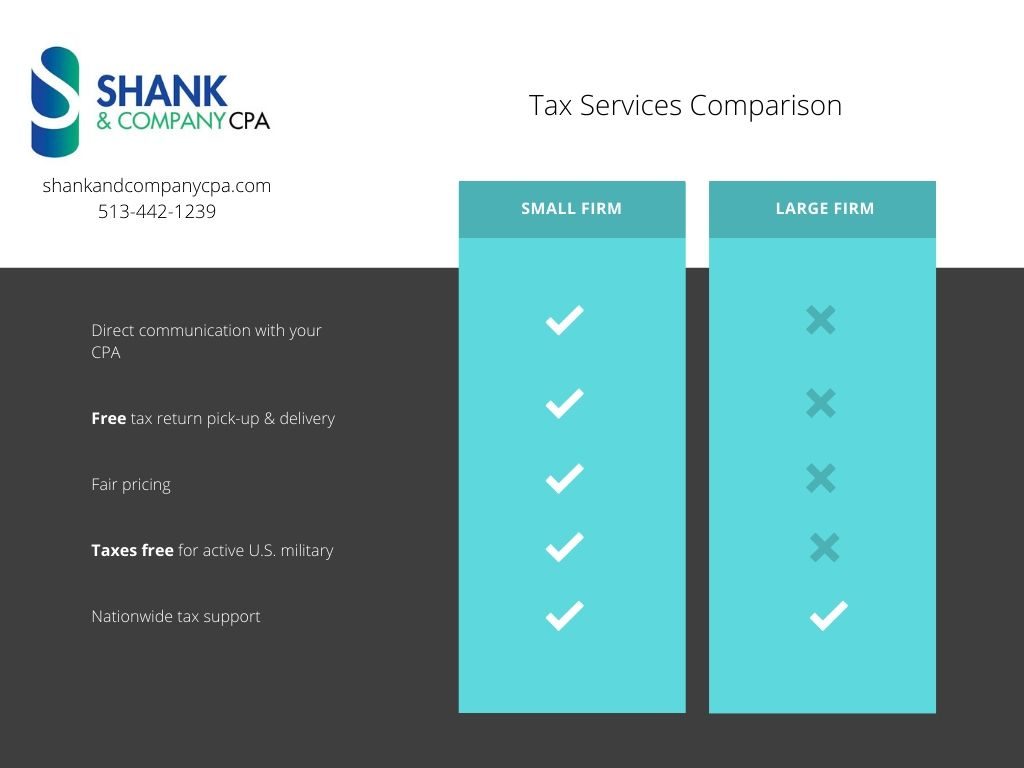 ______________________________________________________________________________________________________
We encourage you share this post and chart with your friends and family members to show them that rather than lose benefits in switching, you gain many. Our goal at Shank & Company, CPA, is to serve all our clients with excellence. To learn how our CPA firm's services can benefit you, please contact Randy Shank at 513-442-1239 or email us at sandccpa@gmail.com.
We'd love to hear from you!